Profile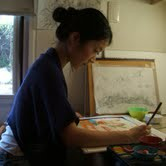 下田冬子 Fuyuko Shimoda
1980年、静岡県生まれ。
 幼少期をドイツで過ごし、その後東京都在住。
東京藝術大学デザイン科卒業、同大学大学院美術研究科
 修士課程 デザイン専攻修了。
2006年、卒業制作としてつくった絵本「つきのわこぐま」で
 デビュー。
現在は絵本作家、イラストレーターとして活動中。
絵本に「えがおがいいね」(鈴木出版)などがある。
Born in 1980 in Shizuoka/Japan, Fuyuko Shimoda spent parts of her childhood
in Germany and then returned to Tokyo.
 She graduated from the Department of Design at Tokyo University of the Arts,
and later received a master's degree in Graphic Design.
Her graduation project was also her first picture book published as
"Tsukinowa Koguma ( Little Moon Bear )".
Currently she is actively working as an illustrator, graphic designer,
and picture book author. Meanwhile she has published other picture books
such as "Egao Ga Iine ( Keep Smiling )", "Kukkuru~Hikari no Michi~
(Kukkuru~A Shining Path~)" and "Kageno Torikaekko(Changing Shadows)".